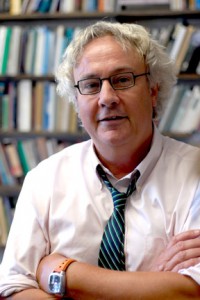 Spring 2019 Office Hours: Monday 1-1:30 p.m., Thursday times TBD, and by appointment

Charles Taliaferro is the author, co-author or editor of over twenty books and is the Editor-in Chief of the journal Open Theology, based in Berlin, Germany. Recent books include The Golden Cord; A Short Book on the Sacred and the Secular, The Image in Mind and Turning Images, with Jil Evans, and the co-editor of The Routledge Companion to Theism, A Brief History of the Soul co-authored with Stewart Goetz, and The Blackwell Companion to Philosophy of Religion. One of Charles' longstanding interests is the 17th century school of philosophy, the Cambridge Platonists. See his co-edited Cambridge Platonist Spirituality. He has had publications translated into Persian, Russian and Korean. The title page of his book Evidence and Faith, printed in Russian, can be viewed at the bottom of this page. He is the senior co-editor of the 6 volume work The History of Evil with Routledge.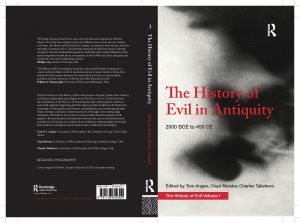 Taliaferro's most recent work includes being the co-editor of The Routledge Companion to Theological Anthropology. He is the senior co-editor of a six volume work, The History of Evil, to be published late in 2018 by Routledge. Along with co-editor Elsa J. Marty, the second edition of their A Dictionary of Philosophy of Religion will be published in 2018.
Here is the cover of Charles' book to be published by Polity Press (based in Cambridge, UK) in December 2018.

He has given lectures or been a visiting scholar at Oxford, Cambridge, St. Andrews (Scotland), Princeton, Yale, New York University, Columbia, the University of Chicago, and elsewhere. Taliaferro has co-authored many articles and book chapters with St. Olaf students including a chapter in The Rolling Stones and Philosophy: "You're so vain. You probably think this chapter is about you" and "Praise and Blame in Philosophy of Religion" with Austin Dressen (Class of 2013) in the Toronto Journal of Theology. He recently gave the 'last lecture' at st. Olaf college.

Taliaferro has been a strong advocate of good relations between the Islamic Republic of Iran and the West. Here are some interviews between Taliaferro and the Tehran Times and the Mehr News Agency: Example is the Best Way for Children to Learn Critical Thinking, Life Impossible Without System of Values, Humanities has Formal Advantages over Natural Sciences, Tolerant, Respectful, Ethical Debate is the Best Ethic, How was Western Philosophy Influenced by Avicenna? Iranian revolution is opposed to injustice and violence. Mehr Magazine News Article February 2015, Imam Hussein's sacrifice has been inspiring to Muslims and non Muslims. Mehr magazine Economic disparities, more unemployment among black Americans.

For a link to Taliaferro's collection of creative nonfiction essays, see Love. Love. Love. Taliaferro has appeared in a dozen episodes of the show Mental Engineering. See the following episode for a discussion on perfume: http://www.youtube.com/watch?v=YtOt43w_0Xo

Charles was a guest on an Australian radio show in February 2015. The subject of this broadcast was "Soul Searching". To listen to the broadcast, click here.

For a recent publication in metaphysics by Professor Taliaferro, see ""Abstract Objects: Bringing causation back into contemporary Platonism," appearing in Revista Portuguesa de Filosofia.

Professor Taliaferro's CV can be found here.

Stewart Goetz and Charles are co-editing a four volume encyclopedia of Philosophy of Religion for Wiley Blackwell with four associate assistant editors and 15 assistant editors, involving 400 scholars from around the world.

Charles at a Philosophy Congress in Brazil, August 2017.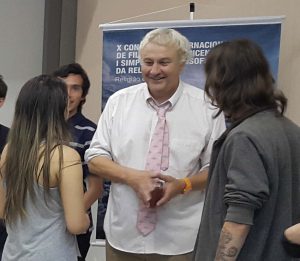 Charles and recent graduate Thomas Churchill ('14) attended a conference in Tehran during the summer of 2014. Here are some photos of this event: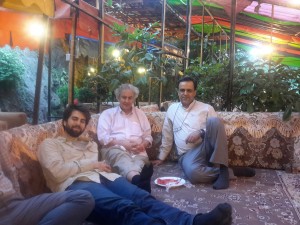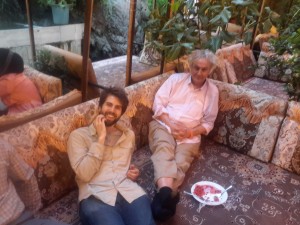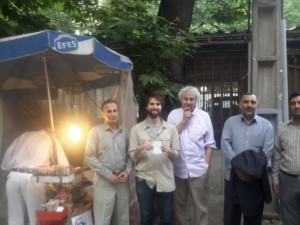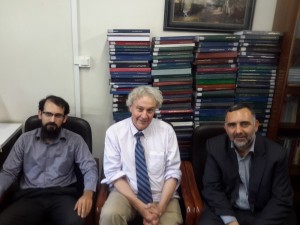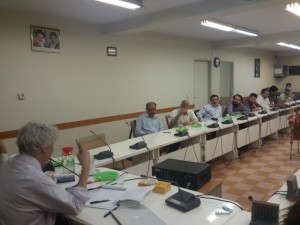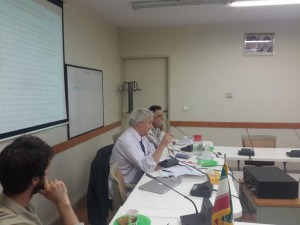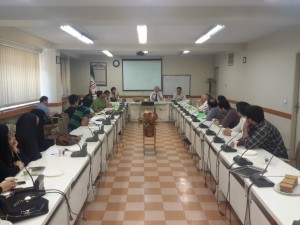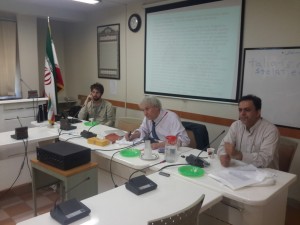 Charles Taliferro co-authored "A Dictionary of Philosophy of Religion" with Elsa Marty.
The front cover of the second edition of Environmental Ethics: Contemporary Prospectives, which Charles uses in his Environmental Ethics course.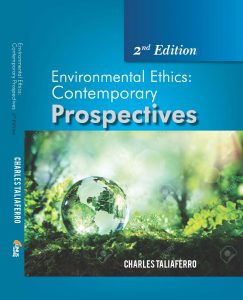 The title page of Evidence and Faith, in Russian.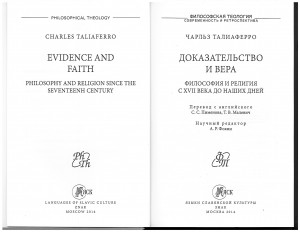 Professor Taliaferro rarely uses conventional mid-term or final exams. Instead, Taliaferro assigns students "creative finals" in which they can create some final project that reflects some aspect of the course they have taken. In the course Philosophical Theology two students made a casket with the writings of Kierkegaard printed on the inside and outside, encouraging the professor and class members to enter the casket to contemplate the meaning of life and death.

[caption id="attachment_1557" align="alignnone" width="214"]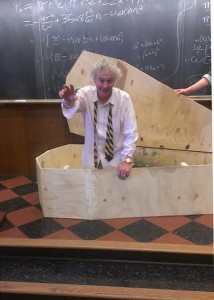 Prof. Taliaferro contemplating Kierkegaard.[/caption]