Newsletter Archives
The monthly Sing For Joy newsletter contains a letter from the program's host, Pastor Bruce Benson, along with a listing of music selections for each program and the corresponding scripture readings. If you'd like to receive a complimentary subscription, fill out our online request form to subscribe.
January 2020 Newsletter (Year A)
It took me months to realize that what most people wanted from music
was not transcendence but simple companionship.
from The Time of Our Singing, Richard Powers
The statement above is uttered with a blend of resignation and insight by a fictional pianist in Richard Powers's novel. Through most of the story this character has been a high-art performer on grand stages, but now plays for tips and free ginger ale at a late-night piano lounge in Atlantic City. His observation about people and music might be a bit cranky, but if we slant it a few degrees for a slightly different look, it can help us make the transition from Christmas to Epiphany, from the transcendent "good news of great joy for all the people" to the plain old January of short days and long nights when companionship feels like gift enough.
All those thrown-out Christmas trees on curbsides in January are a clear sign that change is underway. Despite the exotic magi making their mysterious appearance, for many people Epiphany feels more like mundane post-Christmas than its own special season. We expect the Christmas season with its pageantry, its music both tender and exultant, its gatherings of loved ones and cherished memories, its retelling of the holy story by hushed candlelight — we expect all of that to bring us right to the edge of wonder and transcendence. Whether we allow ourselves to be nudged the final half step is up to us, but we expect Christmas to bring us close. And when it does, we bask in it, even if only briefly.
Then it goes away. It's January. And truth be told, we do not expect the same transcendent music or experience during January as we do during Christmas. What do we expect?
Let's slant or redirect the quotation at the top of this page more toward harmony or simultaneity. That is, don't be so sure that searching for transcendence on the one hand or companionship on the other identifies two different groups of people; isn't the search for both within each of us? We long for moments in music (and life) that feel transcendent, awe inspiring, and sacred, yet sometimes companionship is enough. More than enough.
We at Sing For Joy try to provide a weekly program in which, at least from time to time, you find transcendence. But we understand that sometimes it is enough simply to have the program available as a musical companion while you move about a quiet house or wait out a season of illness or bad weather. Certainly we like when the music you hear is so just-right and amazing that it stops you in your tracks. But if at other times — like during the less than exciting days of putting away lights, ornaments and Christmas music CDs — the program is simply your friend, your companion for part of your day, we are honored to be that friend as well. From all of us at Sing For Joy, a blessed Christmas to you, and a new year in which you find plenty of reason to sing for joy.
Peace be with you,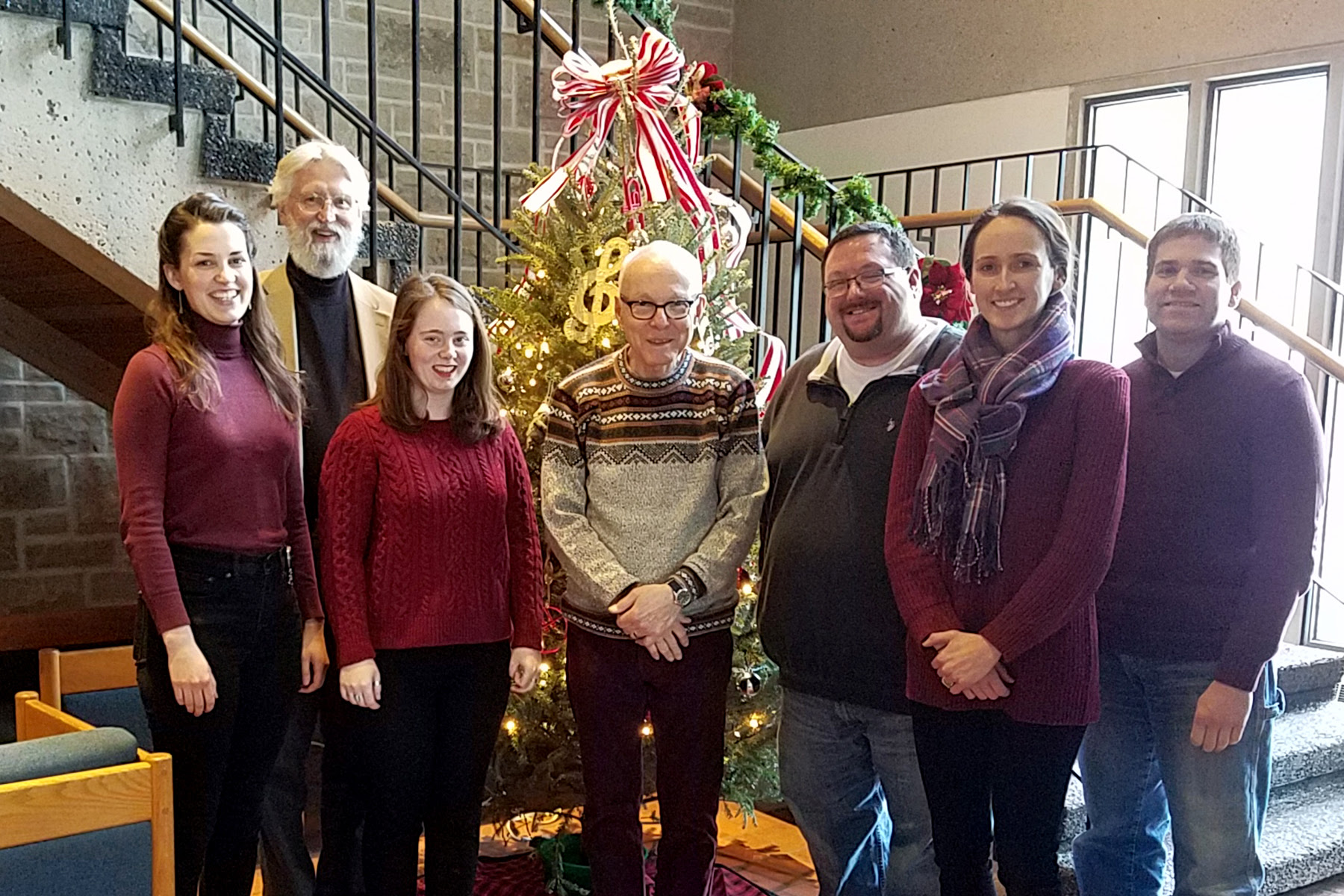 The Sing For Joy team, Christmas 2019
Sing For Joy is supported by listeners like you. All gifts go directly towards our operating budget that makes Sing For Joy possible. Have questions or want to donate by phone? Call us at 507-786-2600.
January Playlists and Programs
We would like to hear how you feel about Sing For Joy, and the role it plays in your life. Please take our five-minute survey, and you could win a collection of St. Olaf CDs from some of our favorite choirs, in addition to helping us continue to build a more meaningful program.
Connect with Sing For Joy!
We love hearing from listeners! Share with us how Sing For Joy plays a role in your life. Join in the Sing For Joy conversation on Facebook, Twitter, and Instagram. Write to us.
Memorials and Honorariums
Thank you for your gifts in memory and honor of those close to your heart.

IN MEMORY OF:
Albert & Norma Eickmann
Connie Eitreim
Sybil Eurey
Suzanne Holderman
my husband, Harvey Huiner
BJ Johnson
Jennifer Koenig
Neal and Dorothy Olson
our parents: Jim & Harriet Hanson, Bob & Betty Sande
Arthur & Erna Raap
Rev. Alvin Rueter
Ronald J. Schubert
IN HONOR OF:
all my wonderful teachers and colleagues
Gene Alton Allen
April
Pastor Bruce Benson
James E Bobb
Damon Brunson
Barbara Carpenter
Dr. James Litton
Helena Wheatley
To include an honorarium or memorial when you give to Sing For Joy, simply include the name(s) and occasion(s) in the comment box, as well as who should receive an acknowledgement letter and a mailing address.

Donations can celebrate a personal milestone such as an anniversary or birthday, or honor a loved one who perhaps also enjoyed music, all while furthering the Sing For Joy mission to bring sacred choral music to listeners around the world.
Sing For Joy is sponsored by: